SkinPen Microneedling In Bradenton,FL
SkinPen Microneedling In Bradenton,FL
Collagen induction therapy, or microneedling, is an aesthetic treatment that improves fine lines and wrinkles, decreases acne scars, and gives you a more youthful appearance. One device used for microneedling is the SkinPen. The FDA has approved the SkinPen as an acceptable device for microneedling.
SkinPen creates controlled micro-injuries to promote the body's natural wound-healing process while minimizing cellular damage. In addition, the SkinPen device helps stimulate collagen and elastin production and treats various issues, from acne scarring and large pores to fine lines and hyperpigmentation.
SkinPen is so adaptable that it can be used on any body part and is great for all skin types. Aestheticians use it on the face, chest, stomach, and hands. Skin Pen can also be used as a natural skin rejuvenation treatment technique.
SkinPen is great for helping reduce acne scars. You may see acne scars, including ice pick, boxcar, and rolling scars. Depending on your scar type, Complete Care Aesthetics can customize your SkinPen treatment to meet the unique scar formations on your skin.
Your treatment settings are different for each patient, and often, varying depths are utilized to be more aggressive in some areas and less aggressive in others. Treatment takes about 30 minutes, depending on the area being treated and your desired results. Results can be seen almost immediately. It is advised to have a series of SkinPen treatments placed about four to six weeks apart to gain the most out of your treatment.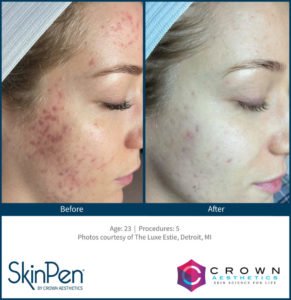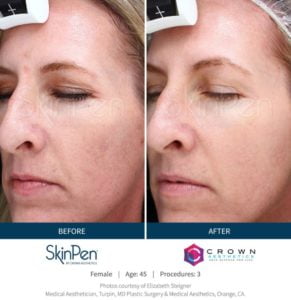 Feel free to reach out and ask us anything!